Is Sports Betting Legal In West Virginia?
The first thing any West Virginia resident will want to know is whether or not sports betting is legal in their home state. West Virginia residents love the action of sports, whether it causes couches to be burned in Morgantown or a go-cart-style lawnmower race in the Mannington District Fair. While you may not be able to wager on the fair's race, there are still plenty of options for betting on major and collegiate sporting events by the use of land-based and online sports betting venues. Legality can not only help with achieving peace of mind with your hobby but can also aid in providing safe, legitimate avenues by which to place your bets.
This is the place to turn to for all information West Virginia sports betting. We cover all of the details surrounding the legality in the state, the opportunities both land-based and online, and the offshore sports betting sector. Between state and federal laws, many things have changed within West Virginia during the last few years. Use this as a guide to explain where the industry grew from and where it is headed moving forward.
Is It Legal To Bet On Sports In West Virginia?
Since PASPA was overturned in 2018, West Virginia had every support in creating their own sports betting industry. It took almost no time for the legislators to move forward, enacted HB 415 into law, only months after the PASPA decision. This allowed state-licensed operators to offer their betting services at the racinos of the state, the Greenbrier Casino, and potentially through the lottery as well.
You may come across two federal laws that influence your betting action at times, but these are set to target the businesses in play, not the gambler. The Wire Act is one of them and all this does is prevent you from submitting a wager outside of WV state lines. The sportsbook will geolocate your position to ensure they are not in violation of this law, so using a state-licensed mobile platform only works when you are physically located within the state.
The other law that may influence you is based solely on offshore betting sites. These overseas sportsbooks are legitimate sites, but the US Government doesn't want your money going offshore to their accounts. With this, UIGEA was enacted to prevent banks from processing transactions to these operators. Some credit card deposit transactions get declined but each site allows for a variety of deposit methods as well as an opportunity to try your card again.
Land-Based Sports Betting in West Virginia:
With six licenses able to be secured in WV, only five of them have been taken. This is believed to be saved for the lottery, which would implement a system based out of the lottery retailers' locations. Until this gets figured out though, the four racinos in West Virginia that offer legal sports betting are the DraftKings Sportsbook at Hollywood Casino at Charles Town, the FanDuel Sportsbook at The Greenbrier, the William Hill Sportsbook at Mountaineer Casino, Mardi Gras Casino, and Wheeling Island Casino.
These venues will offer and professional and collegiate sporting event as well as some international events. The last two locations have undergone problems with their technology provider and suspended operations. The event lasted for a few months, but the sportsbooks have worked diligently to get operations back to where they were before the halt.
Legal Online Sports Betting in West Virginia:
Online sports betting opens into two different facets – state-operated and offshore. Both of these systems are legal and both have their own benefits. However, the benefits definitely lay in favor of the offshore sportsbooks, as they can provide better bonuses, increased wagering options, the ability to shop lines, and generally better odds all around. No matter what online sportsbooks for West Virginia residents you use, just remember to utilize one that is located outside of the United States and has a regulatory body overseeing their operations. All of the books we review on the page follow this criterion as well as having excellent customer service, reliable payment options, and top-notch security.
For the state-operated books, the mobile betting platforms will only be useful when you are inside the state. You will be able to review the lines, but actually placing a wager is limited to being local. Each sportsbook has its own platform, but lines will be very similar across the boards. When a local team is playing, all of the WV residents will be hitting those odds hard, making the line move out of your favor. This is why the offshore books can provide better options when looking to bet on the home-town team. Shopping lines across various offshore sites can see your payout or cost greatly changed to your benefit.
Bovada Sportsbook - Our Number One West Virginia Sportsbook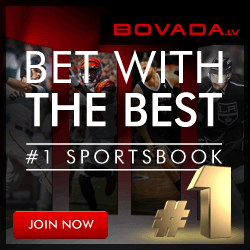 Bovada Sportsbook is the most utilized sportsbook in the entire country. WV residents have been using this site for over two decades and have yet to experience a major problem with their operations. They entertain bettors with a live betting section that has odds running constantly throughout the day on events from all over the world. They even allow for betting on political and entertainment events.
Whether you are a new or an experienced gambler, Bovada is a great site for you. Check out their promotions, which range from free play added to your sportsbook's balance to your online casino or racebook getting a rebate on all action. If you have Bitcoin, definitely look into processing your first deposit with the coin, as they will reward you with up to $1500 in free play. Use the code BVCBITCOIN150 or check out the other offers at Bovada's promotions page.
New members are rewarded with a bonus when they sign up and make their first deposit. No promotional code is required for this promotion, as it is the standard for the sportsbook. You will be given a 50% match (worth up to $250) and the rollover requirement is over 5x – which is extremely low for a promotion. However, there is even a better promotion available and that is if you have Bitcoin. You can receive up to $5,000 in free play if you deposit with this method. If you are using it for the sportsbook, enter the code "BVSBITCOIN50" which gives a 50% match, up to $500. If you are using it for the casino, enter the code "BVCBITCOIN150" which gives a 150% match, up to $1,500. The first one can only be used once; however, the latter is able to be utilized three different times.
Top West Virginia Sports Betting Sites
Rank
Online Sportsbooks
Bonuses Offered
Rating
US Players?
Play Now!





What's The Bottom Line? Will I Get In Trouble For Betting On Sports?
There are very few opportunities for you to get in trouble betting on sports in WV. If you use an unlicensed operator that is doing business inside the state or are a bookie yourself, you can be at risk for sports betting. However, if you are the one placing the action and its to the offshore sports betting sites or state-licensed sportsbooks, you have nothing to fear. Have fun!